Women's Neoprene Weight Loss Slimming Pants
For a limited time only:
$24.99
$40.00
Winter SALE







Women's Neoprene Weight Loss Slimming Pants
For a limited time only:
$24.99
$40.00
Winter sale
or 4 interest-free payments of $6.24 with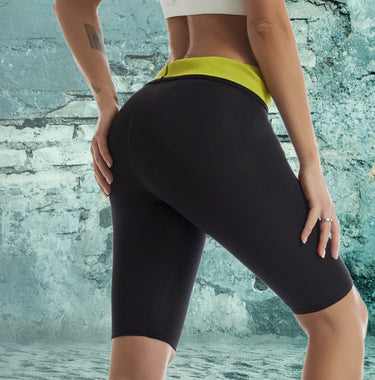 3x special layers
More Sweat
More Sweat
More Sweat
Overview
These Neoprene Slimming Pants were designed to maximize the effectiveness of your workout and keep you looking great in the process.
Imagine you could burn more calories while even cutting down how long you spend at the gym - these pants TRIPLE perspiration when compared to normal gym clothing.
Perfect for Walking, Yoga, Jogging, Running, and Daily Activities.
Key Benefits:
Comfortable, lightweight, stretchy, and simple design that will match perfectly with any workout or casual outfit.
Made of high-quality Neoprene that not only increases body temperature but also absorbs sweat and always keeps you dry on the outside.
High-tech Fabric produces higher compression resulting in more sweating and potential detoxification, as well as aid in expediting calorie burning.
High waist Tummy control, can help burn your belly fat faster and sweat more and slim your thighs, maximize your curves and helping you get the slim figure you deserve.
Sizing & fit
Size chart
| Size | Waist | Hips | Pants Length |
| --- | --- | --- | --- |
| S | 23.5" | 31.5" | 24.4" |
| M | 24.5" | 32.3" | 25.2" |
| L | 26.8" | 33.9" | 26" |
| XL | 28" | 37" | 26.4" |
| 2XL | 28.3" | 37.8" | 27.6" |
| 3XL | 28.7 " | 38.6" | 28.8" |
how to measure
1
Waist
Measure the narrowest part, around your natural waistline at belly button level.
2
Hips
Measure around your lower torso, over your hipbones at the widest part.
3
Pants Length
Measure from the top of the waistband, where the pants sit on your waist, down to the bottom of the pant leg.
Risk-free shopping
We offer easy, free exchanges for 30 days. If there's ANYTHING wrong with your order, please let us make it right!
Worried your item won't fit you? Made a mistake? Even with all the help we provide, it can happen. You have 30 days to ask for another size and we'll send it over - free of charge!
Specs & care instructions
Care instruction
Hand wash in cold water with a soft detergent and hang dry.
It is recommended to wash it after each use, particularly after exercising.
Please do not machine wash or iron this item to avoid damage.
Material:
Neoprene 70%, polyester 15%, nylon 15%



Note: The smell of Neoprene is normal at first and would be easily gone after a few time washes.