Magnetic Therapy Belt Posture Corrector
For a limited time only:
$18.95
$30.00
CYBER MONDAY



Magnetic Therapy Belt Posture Corrector
For a limited time only:
$18.95
$30.00
CYBER MONDAY
or 4 interest-free payments of $4.73 with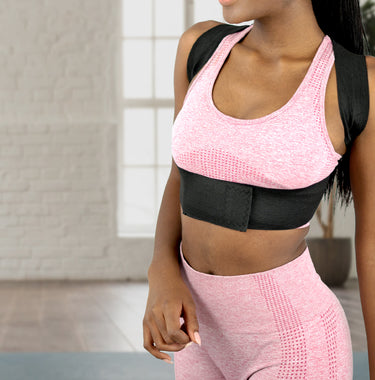 Overview
Have a desk job? You'll love the support it offers, especially if you already have back pain. Have a happier, healthier back with this therapy belt!
If your back is strained and fatigued due to bad posture or prolonged periods of sitting, you need the Magnetic Therapy Belt Posture Corrector! Designed to correct slouching and hunching, this belt has strategically placed powerful magnets that target the spine to reduce back pain.
It corrects your posture, helping you maintain a healthier stature. Not only does it relieve pressure on your back, but it also gives you a more confident profile.
Its Elastic shoulder straps are adjustable and gives you maximum comfort. Invisible under clothing, this comfortable and lightweight support belt is non-restricting and perfect for both men and women of all shapes and sizes.
Key Benefits:
It is very easy to wear and take off. It has an Adjustable Strap.
Posture Providing Support for your back and helping to improve your Posture, which will relieve stress on your back.
Can be worn anywhere you go, whether you are at work or at home.
Designed to improve posture and correct stooping
Can be worn all day under clothing discreetly

Fits for both men and women.
Sizing & fit
Size chart
| Size | Waist | Length |
| --- | --- | --- |
| S | 25.6 - 31.5" | " |
| M | 28.7 - 35.4" | " |
| L | 31.1 - 39.4" | " |
| XL | 33.1 - 43.3" | " |
how to measure
1
Waist
Measure the narrowest part, around your natural waistline at belly button level.
Risk-free shopping
We offer easy, free exchanges for 30 days. If there's ANYTHING wrong with your order, please let us make it right!
Worried your item won't fit you? Made a mistake? Even with all the help we provide, it can happen. You have 30 days to ask for another size and we'll send it over - free of charge!
Specs & care instructions
Care instruction
Hand wash in cold water with a soft detergent and hang dry.
It is recommended to wash it after each use, particularly after exercising.
Please do not machine wash or iron this item to avoid damage.
Material:
Control Level: Flexible