The Ultimate EMS Abs & Muscle Trainer
For a limited time only:
$59.99
$120.00
Winter SALE







The Ultimate EMS Abs & Muscle Trainer
For a limited time only:
$59.99
$120.00
Winter sale
or 4 interest-free payments of $14.99 with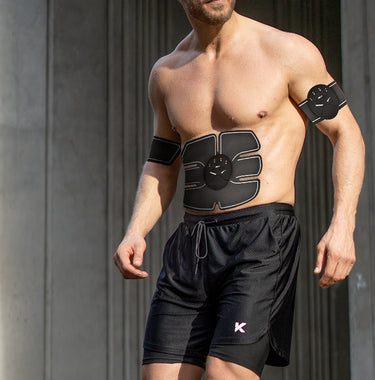 Overview
This revolutionary Muscle Trainer uses the latest EMS technology to help you get the body of your dreams. (without even lifting a finger)
Made of top-quality materials and packed full of features, this trainer can be used to stimulate your core, arms & lower body to get strong and healthy muscles at lightning speed...
It can even do a better job activating your muscles than traditional exercise! (Pheww...Technology.)
Use it anywhere you want, easy to get started with one touch!
Key Features & Benefits:
EMS Technology
EMS is a technology that uses electrical signals to stimulate and exercise the muscles directly. Easy to attach and ready to operate at a single touch, comfortable and cordless EMS training.
Comfortable& Effective
Use 15 different exercises and have full control over intensity according to your own needs.
Targeted Training
Work on 14 different muscle groups. Boost muscle strength, power, and endurance plus enjoy a speedy post-training recovery - you will feel more relaxed due to the incredible massage effect.
Sculpt & strenght
Burn fat, strengthen muscles, and shape the body easily in any time.
Real activity
"20 minutes with the Ultimate Abs Trainer is similar to running 1500 meters or swimming for half an hour." 
Customizable
Customize your training to target the muscle groups you rely on the most. Improve muscle tone and definition, reduce muscle soreness, and warm up safely.


Perfect for:
Aiding Weight Loss.
Fitness Enthusiasts & Sports Lovers.
Commuters, White collars, no time for gyming.
Post-partum & more.
Package Includes:
1 x Abs pad & controller host
2 x Arm pads & controller hosts
1 x English user manual

Replacement gel pads sold Here >>
Battery operated using 2 x 3A batteries (Not included). Standard battery life is 20-30 days.
Risk-free shopping
We offer easy, free exchanges for 30 days. If there's ANYTHING wrong with your order, please let us make it right!
Worried your item won't fit you? Made a mistake? Even with all the help we provide, it can happen. You have 30 days to ask for another size and we'll send it over - free of charge!