Men's Heat Trapping T-Shirt
For a limited time only:
$27.99
$35.00
Winter SALE













Men's Heat Trapping T-Shirt
For a limited time only:
$27.99
$35.00
ⓘ 20% OFF
Winter sale
or 4 interest-free payments of $6.99 with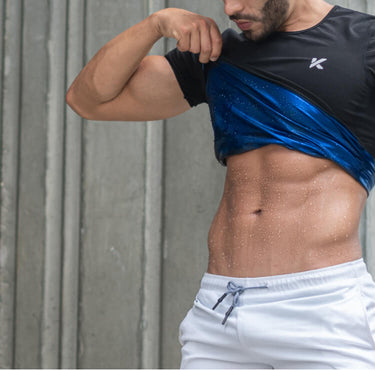 burn calories
up to
3x Faster
3x Faster
3x Faster
Overview
Get ready to start sweating off pounds with our #1 Sauna T-Shirt. Made from our famous polymer performance blend, this shirt provides full coverage, including slow-to-respond areas in the abdomen, waist, shoulders and back.
Key Benefits
Sweat it out: Helps increase natural sweating much more than a normal gym T-Shirt while also enhancing circulation and keeping your core temperatures high.
Make every move count: Wear it during cardio, sports, at the gym, or running everyday errands. You'll feel the burn and see progress from day 1.
Premium fabrication & ventilation: This shirt was designed to be worn all day and features ventilation areas on each side along with the high-quality heat-trapping polymer.
Enhanced fit, comfort & durability: This T-Shirt went through extensive fitting and optimization tests so it fits tight and snug but remains anatomically correct while exercising. Your body will keep sweating inside but you'll stay dry on the outside.
Speed up warm-up & recovery times: Enjoy faster recovery after intense workouts and get up to speed much faster thanks to increased circulation and body temperature which keeps your muscle warm and helps prevent injury.
Feel the heat. Stay motivated: Turn every workout into a more intense, satisfying, sweaty, and motivating next step in your health journey and produce real results faster and easier.
Sauna-like experience at home: Sweating from workouts has been proven to increase calorie burning, endorphin release, aid detoxification and help boost metabolism. Many of the same benefits you get from using a hot sauna at a fraction of the cost.
Note: Exercise and a healthy diet are an integral part of every weight loss and fitness journey, and Kewlioo products are designed to supplement and enhance but not replace those components.
Sizing & fit
Size chart
| Size | Chest | Waist |
| --- | --- | --- |
| S | 35" | 33" |
| M | 37" | 35" |
| L | 39" | 37" |
| XL | 40" | 38" |
| 2XL | 42" | 40" |
| 3XL | 47" | 43" |
| 4XL | 50-54" | 47-50" |
how to measure
1
Chest
Measure under your arms, around the fullest part of your chest.
2
Waist
Measure the narrowest part, around your natural waistline at belly button level.
Risk-free shopping
We offer easy, free exchanges for 30 days. If there's ANYTHING wrong with your order, please let us make it right!
Worried your item won't fit you? Made a mistake? Even with all the help we provide, it can happen. You have 30 days to ask for another size and we'll send it over - free of charge!
Specs & care instructions
Care Instructions
Gentle wash on a cold cycle only.
Line dry in the shade. Do not tumble dry.
It is recommended to wash it after each use, particularly after exercising.
Please do not iron this item to avoid damage.
Materials
Outer: 90% Polyester, 10% Spandex.
Inner: 100% Polyurethane
Compression Level: Moderate