Women's Heat Trapping Arm Trimmers
For a limited time only:
$14.99
$25.00
Winter SALE









Women's Heat Trapping Arm Trimmers
For a limited time only:
$14.99
$25.00
ⓘ 1+1 Deal
ⓘ 20% OFF
Winter sale
or 4 interest-free payments of $3.74 with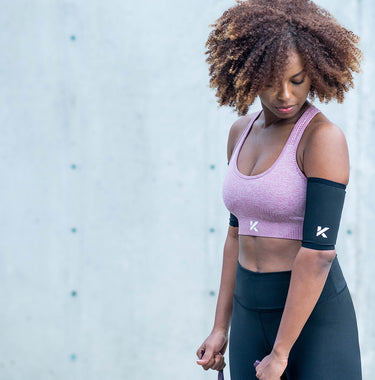 burn calories
up to
3x Faster
3x Faster
3x Faster
Overview
Kewlioo's Arm Trimmers are an integral part of our highly effective heat-trapping sauna wear line. 
By combining double-layered high-performance fabric with compression technology, these articles make the perfect workout buddy, which multiplies your efforts to shape and tone your upper arms.
Look and feel great throughout your workout with these arm trimmers that are designed for full mobility during dynamic exercises.
Key benefits
Body heat is trapped and concentrated under the arm trimmers, resulting in maximum sweat production.
The lightweight and sleek fabric is designed to burn through water weight so you can get the crafted and toned look you've always wanted for your arms.
By combining compression technology with an alloy that grips and defines your biceps and triceps, you are sure to look and feel great throughout any physical activity!
Warm-up and cool-down are a breeze due to the increased temperatures, which promote healthy muscle growth and restoration.
Perfect for hardcore workouts or everyday activities - they are sure to keep your arms looking sculpted any time you wear them.
Double-layered design creates an exceptional performance fabric that perfectly grips your muscles without riding or bunching up.
Note: Exercise and a healthy diet are an integral part of every weight loss and fitness journey, and Kewlioo products are designed to supplement and enhance but not replace those components.
Sizing & fit
Size chart
| Size | Circumference |
| --- | --- |
| S | 9 - 10" |
| M | 10.5 - 11" |
| L | 11.5 - 12" |
| XL | 12.5 - 13" |
| 2XL | 13.5 - 14" |
| 3XL | 14.5 - 15" |
| 4XL | 15.5 - 16" |
how to measure
1
Circumference
Measure all the way around the narrowest part of your bicep, close to the elbow.
Risk-free shopping
We offer easy, free exchanges for 30 days. If there's ANYTHING wrong with your order, please let us make it right!
Worried your item won't fit you? Made a mistake? Even with all the help we provide, it can happen. You have 30 days to ask for another size and we'll send it over - free of charge!
Specs & care instructions
Care instruction
Gentle wash on a cold cycle only.
Line dry in the shade. Do not tumble dry.
It is recommended to wash it after each use, particularly after exercising.
Please do not iron this item to avoid damage.
Material
Outer: 90% Polyester, 10% Spandex.
Inner: 100% Polyurethane
Control Level: Flexible