The Kewlioo Sauna Vest
For a limited time only:
$24.99
$45.00
Winter SALE
The Kewlioo Sauna Vest
For a limited time only:
$24.99
$45.00
Winter sale
or 4 interest-free payments of $6.24 with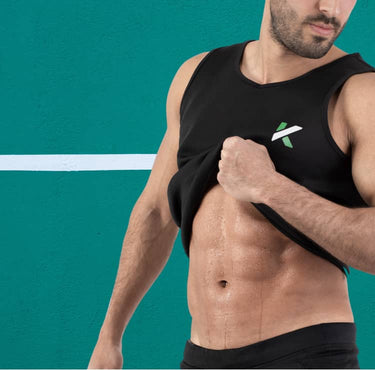 burn calories
up to
3x Faster
3x Faster
3x Faster
Overview
Kewlioo Sauna Vest For Men
This Body Shaping Sauna Vest intensifies perspiration in your core by 3-5 times more than regular gym clothing
Put it on & instantly feel how intense any workout can get. WARNING - you're going to sweat BIG TIME!
This sauna vest fits snugly around your midsection, working its magic all the way from your shoulders down to your waistline.
It also helps posture for back and abs as you workout or involved with daily activities.
Sauna Vest Key Benefits
Comfortable, lightweight stretchy fabric and moves with your body while performing any activity.
It looks great & matches with any combination of workout tops. (can even be worn under everyday clothes)
Its special material absorbs sweat while increasing body temperature so you're always dry on the outside.
The unique design provides abdominal and lumbar support.
Reduces Love Handles, Man Boobs, and Belly issues with supreme compression.
Preserves body heat and stimulates sweat during exercise. Its revolutionary design helps you achieve results faster and easier.
Sizing & fit
Size chart
| Size | Chest | Waist |
| --- | --- | --- |
| S | 34" | 32" |
| M | 36" | 34" |
| L | 38" | 36" |
| XL | 40" | 38" |
| 2XL | 42" | 40" |
| 3XL | 44" | 42" |
| 4XL | 45.5" | 43.5" |
| 5XL | 47.5" | 45.5" |
how to measure
1
Chest
Measure under your arms, around the fullest part of your chest.
2
Waist
Measure the narrowest part, around your natural waistline at belly button level.
Risk-free shopping
We offer easy, free exchanges for 30 days. If there's ANYTHING wrong with your order, please let us make it right!
Worried your item won't fit you? Made a mistake? Even with all the help we provide, it can happen. You have 30 days to ask for another size and we'll send it over - free of charge!
Specs & care instructions
Care instruction
Hand wash in cold water with a soft detergent and hang dry.
It is recommended to wash it after each use, particularly after exercising.
Please do not machine wash or iron this item to avoid damage.
Note: The product may arrive with a natural material smell that will fade away after a few washes.
Material
Neoprene 70%, polyester 15%, nylon 15%