Men's Heat-Trapping Sweat Vest
For a limited time only:
$23.99
$30.00
Winter SALE












Men's Heat-Trapping Sweat Vest
For a limited time only:
$23.99
$30.00
ⓘ 1+1 Deal
ⓘ 20% OFF
Winter sale
or 4 interest-free payments of $5.99 with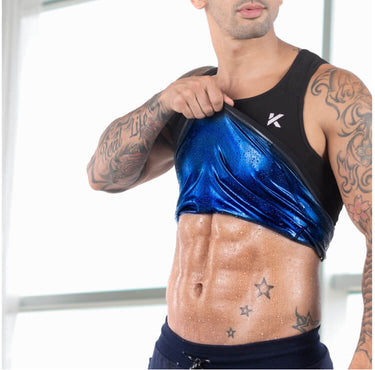 burn calories
up to
3x Faster
3x Faster
3x Faster
Overview
This Heat-Trapping Sauna Vest accelerates your body's natural sweating to help you make the most out every activity while staying motivated and ready for action.
It uses an advanced composition of spandex and polyurethane, your core temperature rise so you get results FASTER.
It fits snugly around your midsection and is designed to keep you sweating inside but comfortable and dry on the outside.
Wear it in the gym or while performing everyday activities, you'll INSTANTLY feel the difference.
Key Benefits
It molds and moves with your body during workouts at the gym or at work.
Supreme flexibility, featuring a traditional tank top style you can wear it underneath your clothes completely hidden without adding any extra bulk.
The garment was designed to increase body temperature and absorb sweat so you're always dry on the outside.
Preserves body heat and stimulates sweat during exercise. Its revolutionary design helps you achieve results faster and easier.
Provides a hot-sauna like-experience including many of the same scientifically proven health benefits.
Made of a revolutionary polyurethane inner layer that preserves heat yet allows the vest to be machine washed.

NOTE: Exercise and a healthy diet are an integral part of every weight loss and fitness journey, and Kewlioo products are designed to supplement and enhance but not replace those components.
Sizing & fit
Size chart
| Size | Chest | Waist |
| --- | --- | --- |
| S/M | 32 - 37" | 30 - 32" |
| L / XL | 38 - 40" | 33 - 35" |
| 2XL / 3XL | 41 - 43" | 36 - 38" |
| 4XL / 5XL | 43 - 48" | 38 - 43" |
how to measure
1
Chest
Measure under your arms, around the fullest part of your chest.
2
Waist
Measure the narrowest part, around your natural waistline at belly button level.
Risk-free shopping
We offer easy, free exchanges for 30 days. If there's ANYTHING wrong with your order, please let us make it right!
Worried your item won't fit you? Made a mistake? Even with all the help we provide, it can happen. You have 30 days to ask for another size and we'll send it over - free of charge!
Specs & care instructions
Gentle wash on a cold cycle only.
Line dry in the shade. Do not tumble dry.
It is recommended to wash it after each use, particularly after exercising.
Please do not iron this item to avoid damage.
Material
Outer: 90% Polyester, 10% Spandex.
Inner: 100% Polyurethane
Control Level: Flexible