Men's Heat Trapping Waist Toner
For a limited time only:
$19.99
$30.00
Winter SALE












Men's Heat Trapping Waist Toner
For a limited time only:
$19.99
$30.00
ⓘ 1+1 Deal
ⓘ 20% OFF
Winter sale
or 4 interest-free payments of $4.99 with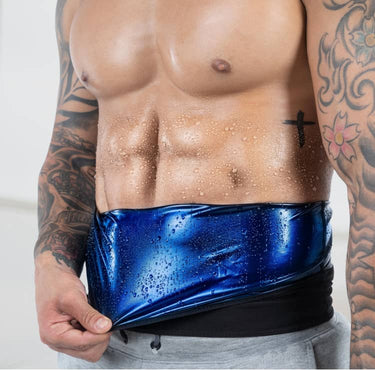 burn calories
up to
3x Faster
3x Faster
3x Faster
Overview
This Compression Waist Toner for men is the secret weapon for your fitness journey, simply wear it discreetly under any outfit and WATCH your body TRANSFORM!
Put this waist toner on and INSTANTLY feel how it tucks your tummy in, trims your waistline, and gives you a more toned and athletic look. (while working its magic in the background).
Made from high-quality polymer fabric, this waist toner traps the heat and intensifies natural sweating so you'll enjoy a hot-sauna-like experience and the associated health benefits.
Key Benefits
Maximize Heat exposure: helps burn more calories FASTER by deploying evolutionary pressure on your body during workouts or everyday activities and forcing it to adapt.
Sweat hard, keep dry: this garment was designed to increase perspiration but keep it all inside.
Helps release toxins and improves skin health.
Targets the most stubborn areas: works your waist and lower back to get results FAST.
Speed up recovery time: keeps your muscles warm so you can ease in and out of physical exercise and help prevent muscle or joint injuries.
Versatile and discreet: no one will even notice you're wearing a waist trimmer, it fits comfortably and discreetly and is super easy to carry.
The benefits are real: continuous use of Sauna Apparel was proven to facilitate weight loss by 40% and increase metabolism by 20% in a study.
Super easy to clean: spend more time at the gym and less time washing clothes, this garment is fully machine washable. (please follow care instructions below)
NOTE: Exercise and a healthy diet are an integral part of every weight loss and fitness journey, and Kewlioo products are designed to supplement and enhance but not replace those components.
Sizing & fit
Size chart
| Size | Waist |
| --- | --- |
| S | 25 - 29" |
| M | 30 - 33" |
| L | 34 - 37" |
| XL | 37 - 40" |
| 2XL | 40 - 43" |
| 3XL | 43 - 48" |
how to measure
1
Waist
Measure the narrowest part, around your natural waistline at belly button level.
Risk-free shopping
We offer easy, free exchanges for 30 days. If there's ANYTHING wrong with your order, please let us make it right!
Worried your item won't fit you? Made a mistake? Even with all the help we provide, it can happen. You have 30 days to ask for another size and we'll send it over - free of charge!
Specs & care instructions
Care instruction
Gentle wash on a cold cycle only.
Line dry in the shade. Do not tumble dry.
It is recommended to wash it after each use, particularly after exercising.
Please do not iron this item to avoid damage.
Material
Outer: 90% Polyester, 10% Spandex.
Inner: 100% Polyurethane
Control Level: Flexible