Men's Slimming Vest Invisible Tummy Shaper
For a limited time only:
$23.95
$40.00
Winter SALE















Men's Slimming Vest Invisible Tummy Shaper
For a limited time only:
$23.95
$40.00
ⓘ 1+1 Deal
ⓘ 20% OFF
Winter sale
or 4 interest-free payments of $5.98 with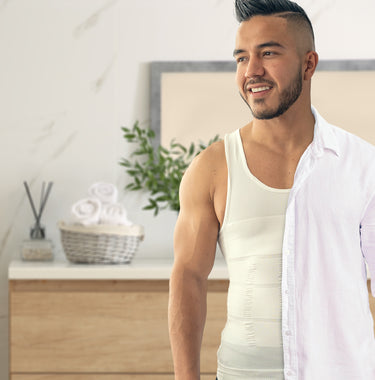 Tummy control
in
3 Seconds
3 Seconds
3 Seconds
Overview
Looking to enhance your physique and boost your confidence? Our Men's Slimming Vest is here to help. This seamless undershirt features targeted compression zones and cooling breatheasy zones to improve the appearance of your torso and chest.

With compression designed to target the abs, torso, and chest, you'll enjoy a slimmer, firmer, and more toned look. The breatheasy zones keep you cool and comfortable, while the lumbar support improves posture and mobility.

Our slimming vest is made from a comfortable, silk-like fabric that's perfect for all-day wear. And because it's virtually invisible under clothes, no one will know you're wearing it. Whether you're at work, a meeting, or a date, you'll feel confident and at your best!
Features
Targeted compression zones for a slimmer, firmer appearance.
Cooling breatheasy zones for all-day comfort.
Lumbar support for improved posture and mobility.
Comfortable, silk-like fabric that's virtually invisible under clothes.
Great alternative as a casual sports or gym tank.
An instant confidence boost for when you're working towards your fitness goals.
Note: While this Men's Slimming Vest can help enhance your physique and confidence, it's important to maintain a healthy diet and exercise regularly for the best results. Everyone's size and shape is different, so results may vary.
Sizing & fit
Size chart
| Size | Chest | Waist |
| --- | --- | --- |
| S | 26 - 30" | 18 - 22" |
| M | 30 - 36" | 20 - 24" |
| L | 36 - 40" | 24 - 34" |
| XL | 40 - 44" | 26 - 40" |
| 2XL | 44 - 48" | 30 - 42" |
how to measure
1
Chest
Measure under your arms, around the fullest part of your chest.
2
Waist
Measure the narrowest part, around your natural waistline at belly button level.
Risk-free shopping
We offer easy, free exchanges for 30 days. If there's ANYTHING wrong with your order, please let us make it right!
Worried your item won't fit you? Made a mistake? Even with all the help we provide, it can happen. You have 30 days to ask for another size and we'll send it over - free of charge!
Specs & care instructions
Care instruction
Hand wash in cold water with a soft detergent and hang dry.

Please do not machine wash or iron this item to avoid damage.
Material:
Nylon 80%, pandex 20%