Tracing Back History of Sauna…
Historically, sweating has been used as a therapy since the Roman baths, Aboriginal sweat lodges, Scandinavian saunas, Waon therapy, and Turkish baths. It has been revealed that traditional cultures were already aware of the dramatic health benefits of sweating. More recently professional athletes have taken up wearing "sauna suits" to quickly lose weight and get their body in shape.
Additionally, over the past decade, we have seen increasing popularity of Far-infrared saunas (FIRS), and how they can help us obtain optimal health and body shape. The way that sauna's improve your overall health is by raising your body temperature and in turn your metabolic rate. This results in increased heart rate and blood flow, resulting in profuse sweating. However, we may not have time in our busy schedule or the disposable funds available to go to the sauna regularly. Therefore why not hit two birds with one stone, and exercise in a sauna suit…
Turn On Your Sound!
What is a Sauna Suit?
Sauna suits are a type of full body items of clothing made out of synthetic material and are designed to be worn during exercise to induce sweating. The first sauna suits were made out of rubber and for this reason, they are often referred to as a "rubber suit". Designed to retain body heat and increase perspiration, the sauna suit often features elasticated wrists and ankles to increase the rate of metabolism.
A sauna suit is like a portable sauna that is specially designed to dramatically increase health and fitness. When wearing a specially designed sauna suit your body temperature will increase to a range that matches that of a sauna. Therefore, you will experience the health benefits of a sauna without stepping inside one.
You can now purchase a wide range of weight loss sauna suits, either as a full body garment, or as individual pieces like body shaping vests, shorts, trousers, bras or tops. Sauna suits come in a wide variety of shapes and sizes from unisex to stylish pieces for men or women.
Health Benefits of Wearing a Sauna Suit While Exercising

There are a wide range of reported health benefits that result from wearing a sauna suit during all forms of exercise. Studies show that on-going use of sauna suits can result in a faster rate of fat loss, increased rates of detoxing, they provide additional support while body building, reduce muscle fatigue and promote heart health.

Reduce Your Workout Time
Studies show that wearing a sauna suit while exercising can cut your workout time in half. So you can get the same or better results in half the training time!
Enhanced Performance
By putting the body under stress and acclimatizing it to intense heat, performance will be greatly enhanced. This is particularly true when you then exercise without the sauna suit after acclimatizing your body to working out in more intense conditions. This can offer you a distinct advantage when competing with other athletes, taking your performance to a whole new level.

Increased Endurance
For endurance athletes, the findings are remarkable! Dr. Dalleck who carried out a scientific research study on the effects of the sauna suit explained that "Sweating earlier and more heavily helped the athletes maintain thermoregulation more effectively." Additionally the sauna suit increases aerobic activity, thus increasing endurance in athletes that wear a sauna suit during exercise.
Our Best Sauna Suits
I have picked 2 of our best sauna suits and explained how awesome they are below:
This Sauna vest intensifies perspiration in your core by up to 3 times more than regular gym clothing. It fits snugly around your midsection, working its magic all the way from your shoulders, down to your waistline, helps posture for back and abs as you workout.
If you are looking for a stylish on-piece sauna suit that will help you get in shape much faster, then look no further than the "Kewlioo Womens's Losing weight Neoprene Sauna Suit". This suit literally encourages the weight to drop off during exercise. Promoting sweating in your core, waist and thighs to encourage your body to get toned in all of the right areas! This suit is tight fitting so can be worn discretely under your usual gym gear.
This elite sauna suit has a wide variety of both short term and longer term health benefits. Not only the benefits of sheding excess weight to boost overall health, this suit also boosts our metabolism, resulting in 3-5 times more sweating and better overall flexibility and endurance.
This Body Shaping Sauna Vest intensifies perspiration in your core by up to 3 times more than regular gym clothing. Put it on & INSTANTLY feel how intense any workout can get, WARNING - you're going to sweat BIG TIME!
This sauna vest fits snugly around your midsection, working its magic all the way from your shoulders down to your waistline. It also helps posture for back and abs as you workout or involved with daily activities.
This is our signature Kewlioo weight loss sauna suit. By using a high quality weight loss sauna suit like our unisex "Kewlioo Neoprene Weight Loss Sauna Suit" you get an unfair advantage over the competition. Your workouts will now be super intense, at least twice as powerful and will help you get into your perfect body shape in record time! This suit is made out of 3mm high quality neoprene for maximum results. If you are looking for immediate results, look no further than our original weight loss sauna suit.
Scientifically, Do Sauna Suits Really Work?
Not only do they work, it has been scientifically proven that people who wear sauna suits have an increased metabolism of 20.8% and facilitates greater weight loss, actually there is a whopping 40.4% increase in weight loss when compared to exercise performed without sauna suit clothing. In a variety of scientific experiments, researchers found that sweat contained more toxins than urine. Alluding to the fact that if we want to reduce toxic overload and get rid of excess fat, then sweating is the best approach. One study showed that phthalates, a type of toxic chemical that comes from the use of plastics, synthetic paint and cosmetics were found in higher amounts in sweat. In fact they found "On average, MEHP concentration in sweat was more than twice as high as urine levels". MEHP stands for mono (2-ethylhexyl) phthalate. A similar finding was uncovered with Bisphenol A (BPA). Again sweat was found to contain BPA, whereas blood and urine samples did not. Pointing to sweat being the only possible way to get these toxins out of our bodies. Putting sweating high up on our to-do list for weight loss and detoxing. Finally heavy metals, which are toxic to our nervous system, brain, kidneys and heart present the most shocking findings. Heavy metals are a by-product of industrialised society and are found in high amounts in our food supply, tooth fillings, water, cigarettes and the environment. Lead is known to be extremely toxic and is found up to 300 times more in our sweat when compared to blood.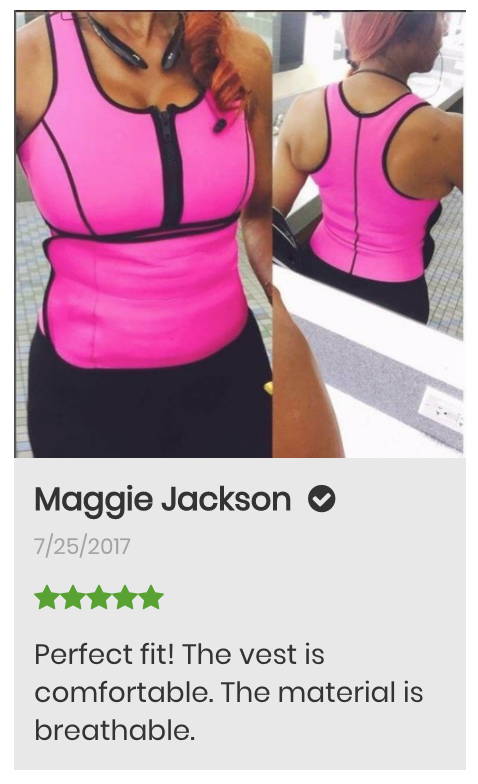 What our customers say: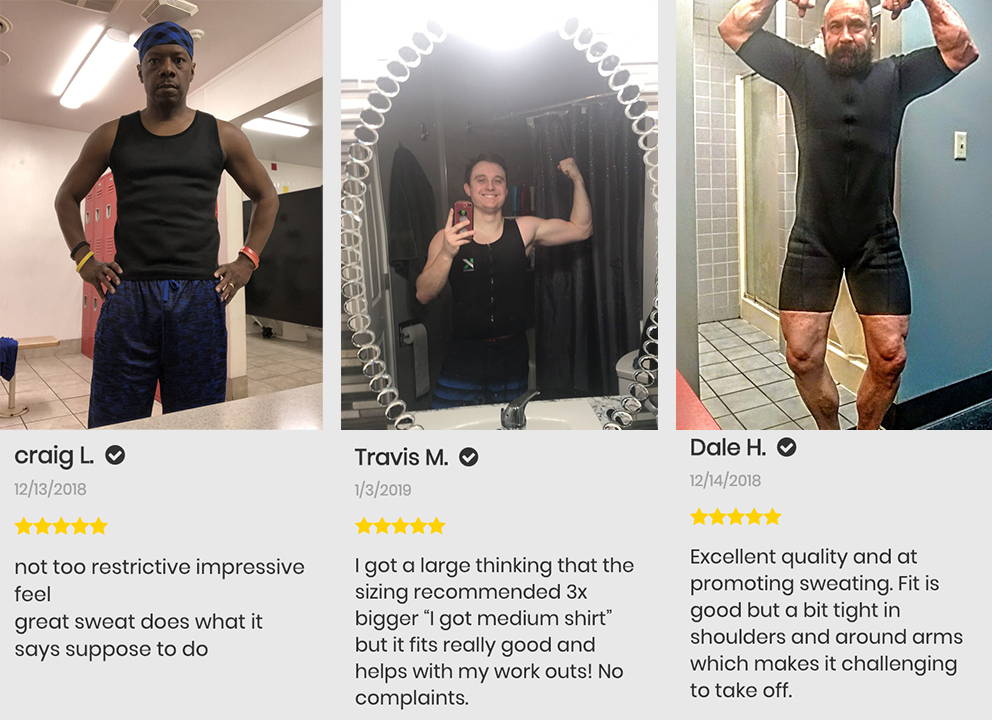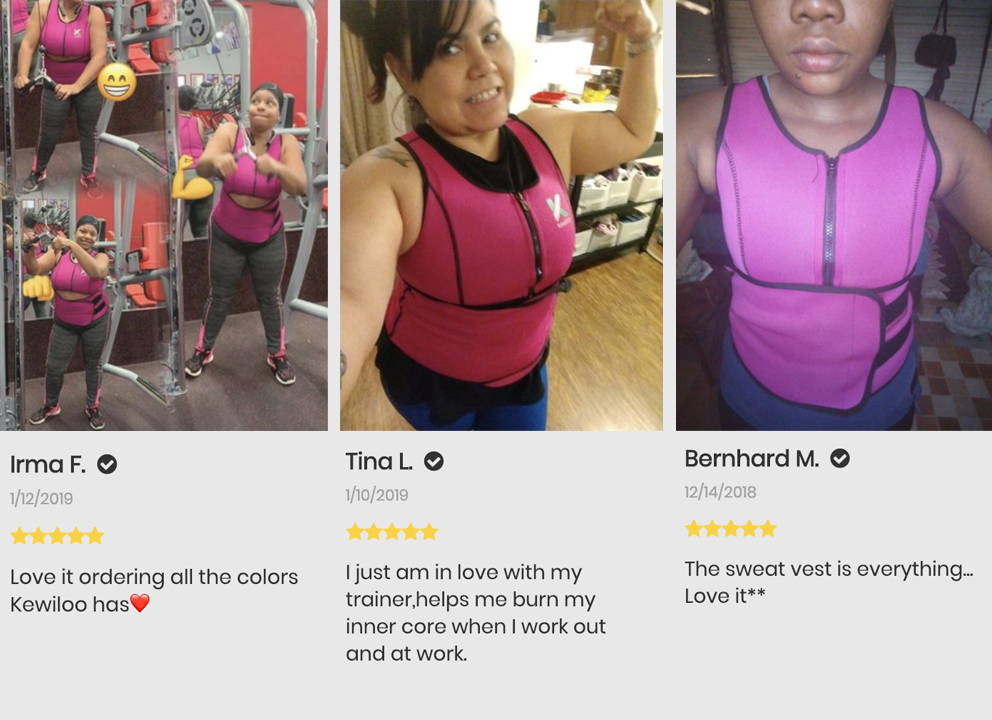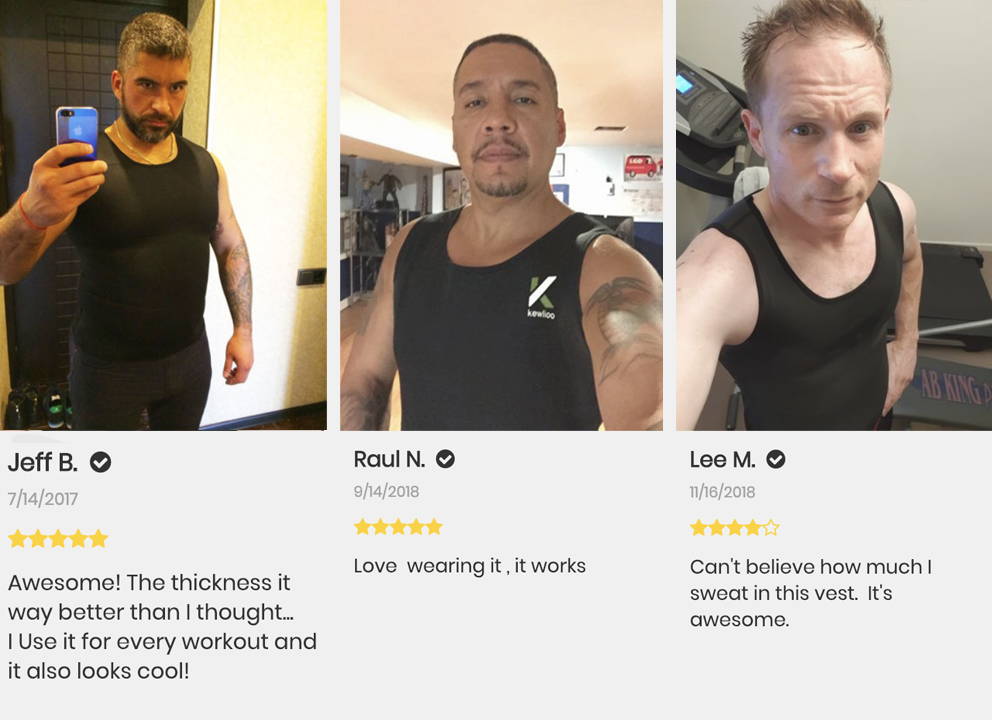 How Do Sauna Suits Work
Sauna suits can benefit everyone, not just pro athletes. Sauna suits should be used as part of a healthy diet and exercise program to promote long term weight loss. This is achieved by your sauna suit increasing your ability to burn calories by up to 13%. Although sauna suits are often used to reduce weight by athletes prior to a weigh in (specifically useful for boxers in a weight class) their benefits far outweigh this. Sauna suits are scientifically proven to have a vast amount of health benefits, including increased muscle growth.
Sauna suits have been shown to enhance endurance by increasing the time that you can work out prior to feeling fatigued. In fact, the sauna suit has been proven to enhance endurance by up to 32%. Furthermore, a sauna suit can enhance the production of serotonin, making you feel great when you work out. Wearing a sauna suit while working out may also reduce hypertension.
What Results Do I expect with Sauna Suits?
Still not convinced by the amazing benefits of wearing a sauna suit, to achieve your optimal body condition and shape? By changing both lifestyle factors and investing in a sauna suit you can achieve your optimal body in half the time. Below are some pictures showing before and after pictures from some of our clients.
FAQ - Selecting the Right Sauna Suit
What are sauna suits made of?
The material used today differs from the traditional rubber used in the past. Modern sauna suits typically come in three types of fabric:
Neoprene Weight
Nylon
PVC coated fabrics
The difference in both the style and fabric varies widely, from slim fitting neoprene to a more track suit sauna suit style for men. Some of the fitted women's sauna suits even come with built in body shaping and waist training. This is great news for ladies looking to quickly get their body into the perfect shape. Let's look at the two types of fabric in more detail, starting with neoprene.
PVC Weight Loss Sauna Suit Fabric
PVC is normally used in cheaper sauna suits. PVC is a synthetic low quality plastic that is low quality. PVC sauna suits are not as durable as nylon or neoprene as they are easily ripped and wear out quickly. Therefore choosing a PVC sauna suit should not be your first port of call when selecting the best sauna suit.
Nylon Weight Loss sauna suit fabric
Although nylon is a more durable fabric than PVC, it is prone to bacterial infestation. Nylon-eating bacteria is an undesirable result of the manufacturing of nylon. Therefore, it is not a good idea to buy nylon sauna suits, because you will be sweating a lot in this suit, meaning that it will actually get quite dirty and prone to spread disease.
Neoprene Weight Loss Sauna Suit fabric
Neoprene is a lightweight, flexible and durable elasticated fabric that is often used in sauna suits, especially the fitted compression type sweat suits. Fitted neoprene sauna suits are tight and offer support during workouts. Furthermore, because of the snug fit, they can be worn under other sports clothing. One minor downside that people sometimes report is the rubbery smell of the neoprene.
what is the difference between sauna suit and sauna vests?
A sauna suit is a full body garment that promotes profuse sweating all over the body.
A sauna suit can cover your whole body and even have a hood that covers your head, or simply be a shorter full body outfit that resembles a wet suit. However, the sauna vest on the other hand covers only the torso and invariably has body shaping contours to help you to lose weight specifically around your torso and waist.
what's the best material
When deciding on the best sauna suit, it pays to be informed and pay for the best sauna suit to fit your individual requirements. Not all sauna suits are the same. Remember to select a high quality neoprene sauna suit and avoid cheap PVC options. For high endurance, the neoprene suits are always the best choice. Nylon and PVC can result in overheating so it is always best to opt for neoprene. If you are looking for a sauna suit that will help to shape your body at the same time, then there are a variety of body shaping suits that will fit this need. Also ensure that your sauna suit has suitable ventilation points.
which size of a sauna suit will yield the best results?
It is important to purchase a sauna suit that fits your body shape correctly to ensure the best results. Use a measuring tape to measure your waist, chest and height. Then select the row that will state the appropriate size of sauna suit for you.
WHY DOES SWEATING INCREASE WEIGHT LOSS?
Our skin is one of the major detox organs of the entire body and helps us eliminate a lot of waste. Sweating is a fantastic way to cleanse out your entire system. Some people get congested and they cannot sweat at all. Therefore a great way to encourage the process along is with a sauna. Sweat filters toxins out of the blood and lymphatic system and should be encouraged.
In modern society we are exposed to a great number of toxins which the body will naturally try to eliminate through the major organs of elimination. In fact the intense overload of toxins that we all harbour in our bodies in the industrialized world is even apparent in samples taken from newborn babies. In a study carried out in America in 2004 scientists discovered that the umbilical cord contains up to 200 toxins, with more than half of them being carcinogenic. Therefore, the need to cleanse our systems is extremely important throughout the human race.
Excess Toxins = Rapid Weight Gain
One of the main reasons for weight gain is toxic overload. This situation can be easily reversed with a clean diet, lots of exercise and profuse sweating. A great way to induce sweating is by visiting a sauna or intense cardio like sprinting. Why not combine both of these sweat inducing activities to lose weight rapidly by wearing a sauna suit?
How to wash your sauna suit
Because your sauna suit will get quite sweaty and sticky, it is extremely important to know how to care for your suit to keep it in the best possible condition. Here are a few handy tips to keep your sauna suit in tip top condition:
Spray your sauna suit down after each use with clean water, rinse your suit down in the shower immediately after each use.
Wash your sauna suit with a mild detergent by hand. Make sure to check the care label on your particular garment, however, due to the synthetic nature of the sauna suit, it is good to wash it by hand once a week if you use your suit regularly.
If you choose to wash your sauna suit in your washing machine, make sure to set the cycle to delicate and switch off the spin cycle. The sauna suit should never go through the spin cycle as it can damage the fibres of the suit.
Hang your sauna suit up to dry. Never put your sauna suit in the tumble dryer.